Teen Book Club - We Are All Made of Molecules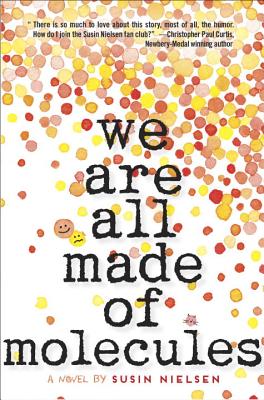 The selection for December's discussion is We Are All Made of Molecules by Susin Nielsen.
Thirteen-year-old Stewart is academically brilliant but socially clueless. Fourteen-year-old Ashley is the undisputed It girl in her class, but her grades stink.
Their worlds are about to collide when Stewart and his dad move in with Ashley and her mom. Stewart is trying to be 89.9 percent happy about it, but Ashley is 110 percent horrified. She already has to hide the real reason her dad moved out; "Spewart" could further threaten her position at the top of the social ladder.

They are complete opposites. And yet, they have one thing in common: they, like everyone else, are made of molecules.
The book club is led by Karen Willey, an 18 year teaching veteran who has spent 17 of those years teaching Language Arts to middle school students. An avid reader herself, Karen has presented numerous times at the state wide Festival of Words conference, focusing on young adult literature. Her educational philosophy has always been to create life long readers and that continues to be her focus today, both in the classroom and in the community.
Snacks and drinks will also be served. No prior registration is required. For more information, call 302-226-2665.
Event date:
Saturday, December 10, 2016 - 11:00am