Teen Book Club - The Lightning Thief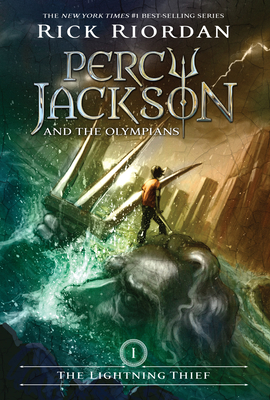 The selection for January's discussion is The Lightning Thief by Rick Riordan. As a companion to the book, also read D'Aulaires' Book of Greek Myths.
Percy Jackson is a good kid, but he can't seem to focus on his schoolwork or control his temper. And lately, being away at boarding school is only getting worse - Percy could have sworn his pre-algebra teacher turned into a monster and tried to kill him.
When Percy's mom finds out, she knows it's time that he knew the truth about where he came from, and that he go to the one place he'll be safe. She sends Percy to Camp Half Blood, a summer camp for demigods, where he learns that the father he never knew is Poseidon, God of the Sea.
Soon a mystery unfolds and together with his friends - one a satyr and the other the demigod daughter of Athena - Percy sets out on a quest across the United States to reach the gates of the Underworld (located in a recording studio in Hollywood) and prevent a catastrophic war between the gods.
The book club is led by Karen Willey, an 18 year teaching veteran who has spent 17 of those years teaching Language Arts to middle school students. An avid reader herself, Karen has presented numerous times at the state wide Festival of Words conference, focusing on young adult literature. Her educational philosophy has always been to create life long readers and that continues to be her focus today, both in the classroom and in the community.
Snacks and drinks will be served. No prior registration is required. For more information, call 302-226-2665.
Event date:
Saturday, January 13, 2018 - 11:00am