Teen Book Club - The Hitchhiker's Guide to the Galaxy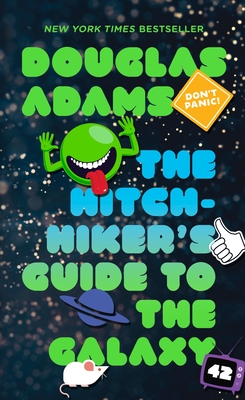 The selection for January's discussion is The Hitchhiker's Guide to the Galaxy by Douglas Adams.
Seconds before the Earth is demolished to make way for a galactic freeway, Arthur Dent is plucked off the planet by his friend Ford Prefect, a researcher for the revised edition of The Hitchhiker's Guide to the Galaxy who, for the last fifteen years, has been posing as an out-of-work actor.
Together, this dynamic pair begin a journey through space aided by quotes from The Hitchhiker's Guide and a galaxy-full of fellow travelers, including the president of the galaxy and a chronically depressed robot. Why are we born? Why do we die? Why do we spend so much time between wearing digital watches? For all the answers, stick your thumb to the stars. And don't forget to bring a towel.
The book club is led by Karen Willey, an 18 year teaching veteran who has spent 17 of those years teaching Language Arts to middle school students. An avid reader herself, Karen has presented numerous times at the state wide Festival of Words conference, focusing on young adult literature. Her educational philosophy has always been to create life long readers and that continues to be her focus today, both in the classroom and in the community.
Snacks and drinks will also be served. No prior registration is required. For more information, call 302-226-2665.
Event date:
Saturday, January 14, 2017 - 11:00am