Teen Book Club - American Born Chinese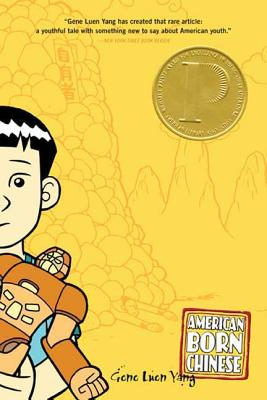 The selection for November's discussion is American Born Chinese by Gene Luen Yang.
Jin Wang starts at a new school where he's the only Chinese-American student. When a boy from Taiwan joins his class, Jin doesn't want to be associated with a foreigner like him. Jin just wants to be an all-American boy, because he's in love with an all-American girl. Danny is an all-American boy: great at basketball, popular with the girls. But his obnoxious Chinese cousin Chin-Kee's annual visit is such a disaster that it ruins Danny's reputation at school, leaving him with no choice but to transfer somewhere he can start all over again.
The Monkey King has lived for thousands of years and mastered the arts of kung fu and the heavenly disciplines. He's ready to join the ranks of the immortal gods in heaven. But there's no place in heaven for a monkey. Each of these characters cannot help himself alone, but how can they possibly help each other? They're going to have to find a way - if they want fix the disasters their lives have become.
The book club is led by Karen Willey, an 18 year teaching veteran who has spent 17 of those years teaching Language Arts to middle school students. An avid reader herself, Karen has presented numerous times at the state wide Festival of Words conference, focusing on young adult literature. Her educational philosophy has always been to create life long readers and that continues to be her focus today, both in the classroom and in the community.
Snacks and drinks will also be served. No prior registration is required. For more information, call 302-226-2665.
Event date:
Saturday, February 13, 2016 - 11:00am