Teen Book Club - 13 Little Blue Envelopes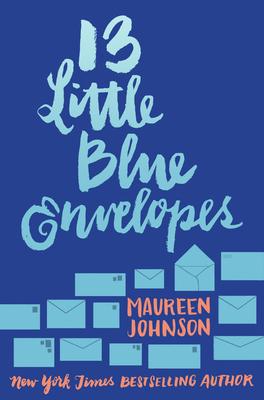 The selection for July's discussion is 13 Little Blue Envelopes by Maureen Johnson.
Ginny Blackstone never thought she'd spend her summer vacation backpacking across Europe. But that was before she received the first little blue envelope from Aunt Peg.
This letter was different from Peg's usual letters for two reasons: Peg had been dead for three months, and the letter included $1000 cash for a passport and a plane ticket.
Armed with instructions for how to retrieve twelve other letters Peg wrote--twelve letters that tell Ginny where she needs to go and what she needs to do when she gets there--Ginny quickly finds herself swept away in her first real adventure. Traveling from London to Edinburgh to Amsterdam and beyond, Ginny begins to uncover stories from her aunt's past and discover who Peg really was. But the most surprising thing Ginny learns isn't about Peg... It's about herself.
Everything about Ginny will change this summer, and it's all because of the 13 little blue envelopes.
The book club is led by Karen Willey, an 18 year teaching veteran who has spent 17 of those years teaching Language Arts to middle school students. An avid reader herself, Karen has presented numerous times at the state wide Festival of Words conference, focusing on young adult literature. Her educational philosophy has always been to create life long readers and that continues to be her focus today, both in the classroom and in the community.
Snacks and drinks will also be served. No prior registration is required. For more information, call 302-226-2665.
Event date:
Saturday, July 8, 2017 - 11:00am