Sam Calagione - Off-centered Leadership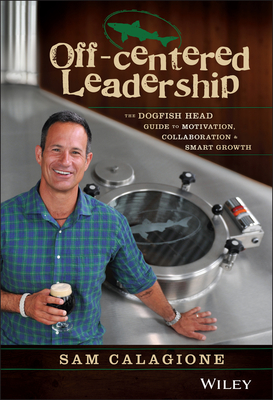 Dogfish Head founder and president Sam Calagione is at it again! In his latest book, Off-centered Leadership: The Dogfish Head Guide to Motivation, Collaboration & Smart Growth, Calagione explores what happens when companies and co-workers stop competing and start collaborating.
By developing an organization built on communication, trust, and alignment, Calagione - a brash, punk-rock loving, English major - transformed his pint-sized, tiny 12-gallon brewpub into Dogfish Head Craft Brewery, one of the nation's fastest growing independent breweries.
Written in Calagione's highly entertaining style, Off-Centered Leadership shows how direct competitors and small, indie businesses can work together to reach a common goal. Calagione rejected the traditional marketing approach and developed an inventive business model that called on musicians, community organizations, and even other breweries to keep Dogfish Head's product development fresh and create engaging customer experiences.
The signing will take place on Saturday, April 2nd, beginning at 3:00 PM. Calagione will be available to sign copies of Off-Centered Leadership, as well as his previous releases: Brewing Up a Business, Extreme Brewing, and He Said Beer, She Said Wine. He'll also sign copies of Pallet, a magazine for those who like to think and drink, for which he serves as executive editor.
Those who purchase one of Calagione's books or a copy of Pallet will receive a free pint glass, courtesy of Dogfish Head. A representative of the brewery will also be serving up samples of their off-centered beers!
For more information, call 302-226-2665. Not able to make it to the signing? We're happy to hold an autographed copy for you.
Event date:
Saturday, April 2, 2016 -

3:00pm

to

4:30pm