L.M. Elliott - Da Vinci's Tiger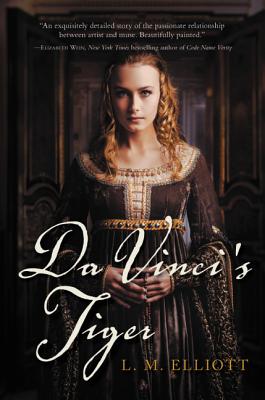 L.M. Elliott will be appearing to sign copies of her young adult novel, Da Vinci's Tiger.
For fans of rich and complex historical novels like Girl with a Pearl Earring or Code Name Verity, L.M. Elliott delivers the stunning tale of real-life Renaissance woman Ginevra de' Benci, the inspiration for one of Leonardo da Vinci's earliest masterpieces.
The young and beautiful daughter of a wealthy family, Ginevra longs to share her poetry and participate in the artistic ferment of Renaissance Florence but is trapped in an arranged marriage in a society dictated by men. The arrival of the charismatic Venetian ambassador, Bernardo Bembo, introduces Ginevra to a dazzling circle of patrons, artists, and philosophers. Bembo chooses Ginevra as his Platonic muse and commissions a portrait of her by a young Leonardo da Vinci. Posing for the brilliant painter inspires an intimate connection between them, one Ginevra only begins to understand.
In a rich and vivid world of exquisite art with a dangerous underbelly of deadly political feuds, Ginevra faces many challenges to discover her voice and artistic companionship and to find love.
The signing will take place on Sunday, May 29th, beginning at 1:00 PM.
Event date:
Sunday, May 29, 2016 - 1:00pm