Kathryn Canavan - Lincoln's Final Hours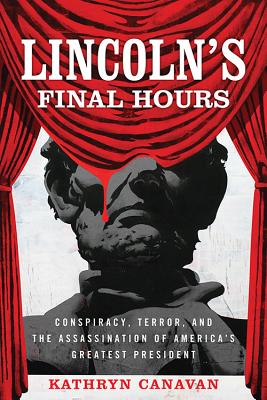 Kathryn Canavan will be appearing to sign copies of Lincoln's Final Hours: Terror, Conspiracy and the Assassination of America's Greatest President.
When John Wilkes Booth fired his derringer at Abraham Lincoln in Ford's Theater, he set in motion unintended consequences that drew ordinary people into one of America's greatest tragedies. Lincoln's Final Hours tells what else was happening inside Petersen's Boardinghouse on the night President Lincoln died there.
About Lincoln's Final Hours, bestselling historian Erik Larsen said, "Just when you thought there wasn't anything new to say about Abe Lincoln's assassination, along comes Ms. Canavan to reveal elements of the saga that will startle and enthrall even the most hardcore of Lincoln aficionados, including what must rank as the single most petty act by any one individual in the history of America—but I'll save that for the book."
Her book reveals new information about the assassination. Here's a short list:
While the president was fighting for his life on the main floor of the boardinghouse, one of John Wilkes Booth's boyhood friends was upstairs burning Booth's confession in his bedroom fireplace.
Before the president was even buried, boardinghouse owner William Petersen mailed a $550 bill to the government for the use of the death room for nine hours and for all of the linens soiled with Mr. Lincoln's blood.
Young Pauline Petersen almost dropped the tea tray she was carrying to Mrs. Lincoln when she overheard John Wilkes Booth was the suspect. She knew that Booth frequently slept in the same bed where the president was dying.
Canavan is a reporter whose work has appeared in USA Today and The Philadelphia Inquirer. She was named a National Health Journalism Fellow at the University of Southern California in 2011.
The signing will take place from 2 to 4 p.m. on December 5.
Event date:
Saturday, December 5, 2015 - 2:00pm