Jack Gilden - Collision of Wills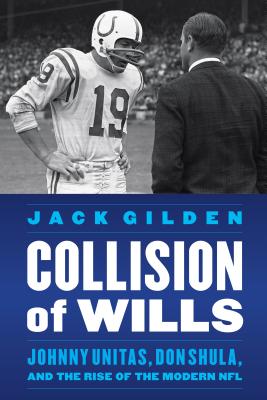 Jack Gilden will be appearing to discuss and sign copies of Collision of Wills: Johnny Unitas, Don Shula and the Rise of the Modern NFL.
No two NFL figures were more closely associated in the 1960s than Johnny Unitas, the premier quarterback in professional football, and his coach, Don Shula. But unknown to the press and fans, the two men had a difficult, bitter relationship that would last the rest of their lives.
"Shula and Unitas are American archetypes who played an outsized role in helping football leap frog baseball as America's most important and followed sport," said Gilden, who first conceived of the idea for the book when he was a 15-year-old student attending a journalism conference at the former Colts training complex in Owings Mills.
Still astounded by the fact that the greatest quarterback and the winningest coach in NFL history did not get along, Gilden set out – decades later – to discover how two people who did not care for one another could manage such successful and intertwined careers.
The event will take place on Tuesday, September 25th, beginning at 5 PM. Gilden will be discussing the book, as well as answering questions from the audience.
Event date:
Tuesday, September 25, 2018 - 5:00pm