Hoda Kotb - Where We Belong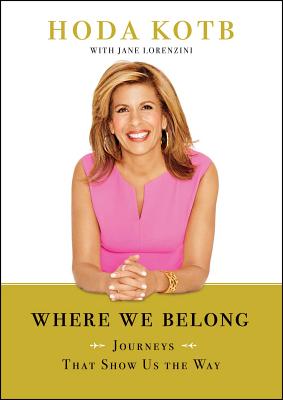 Our favorite Today Show host is returning to Browseabout! Hoda Kotb will be signing copies of her latest release, Where We Belong.
In this incredible collection of stories, Hoda Kotb writes about individuals who realized their path in life was either veering off in a completely new direction or was getting too far off course from where they knew they belonged. By following their passions, their gut, and their heart, these people learned how fulfilling life could truly feel.
From the investment banker who became a minister after years of working on Wall Street, to the young woman from a blue-collar background whose passion took her to Harvard Medical School, to the high-powered PR exec who found herself drawn to a pioneering residential community, to a no-kids guy who now helps children all over the world, the stories in Where They Belong come from an array of ordinary individuals who have discovered the power of embracing change or fighting for a dream.
The signing will take place on Saturday, July 2nd at 10 AM. Hoda will also be happy to sign copies of her two previous works, Hoda: How I Survived War Zones, Bad Hair, Cancer, and Kathie Lee and Ten Years Later: Six People who Faced Adversity and Transformed Their Lives.
Event date:
Saturday, July 2, 2016 - 10:00am