Browseabout Book Club - Sing, Unburied, Sing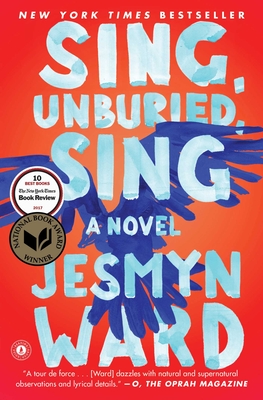 The Browseabout Book Club selection for February is Sing, Unburied, Sing by Jesmyn Ward.
Jojo is thirteen years old and trying to understand what it means to be a man. He doesn't lack in fathers to study; chief among them his Black grandfather, Pop. But there are other men who complicate his understanding: his absent White father, Michael, who is being released from prison; his absent White grandfather, Big Joseph, who won't acknowledge his existence; and the memories of his dead uncle, Given, who died as a teenager.
His mother, Leonie, is an inconsistent presence in his and his toddler sister's lives. She wants to be a better mother, but can't put her children above her own needs, especially her drug use. Simultaneously tormented and comforted by visions of her dead brother, which only come to her when she's high, Leonie is embattled in ways that reflect the brutal reality of her circumstances.
When the children's father is released from prison, Leonie packs her kids and a friend into her car and drives north to the heart of Mississippi and Parchman Farm, the State Penitentiary. At Parchman, there is another thirteen-year-old boy, the ghost of a dead inmate who carries all of the ugly history of the South with him in his wandering. He, too, has something to teach Jojo about fathers and sons, about legacies, about violence, about love.
Purchase the book at Browseabout for 10% off the price; please let the staff member know you are buying it for the book club. Hot beverages from Browseabout's cafe are half price during the meeting.
The meeting will take place on Sunday, February 17th, beginning at 3:30 PM. No prior registration is required. Come for one discussion, or come for them all!
Event date:
Sunday, February 17, 2019 - 3:30pm