Browseabout Book Club - The House of Broken Angels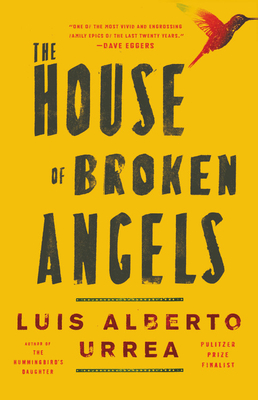 The Browseabout Book Club selection for November is The House of Broken Angels by Luis Alberto Urrea.
In his final days, beloved and ailing patriarch Miguel Angel de La Cruz, affectionately called Big Angel, has summoned his entire clan for one last legendary birthday party. But as the party approaches, his mother, nearly one hundred, dies, transforming the weekend into a farewell doubleheader. Among the guests is Big Angel's half brother, known as Little Angel, who must reckon with the truth that although he shares a father with his siblings, he has not, as a half gringo, shared a life.
Across two bittersweet days in their San Diego neighborhood, the revelers mingle among the palm trees and cacti, celebrating the lives of Big Angel and his mother, and recounting the many inspiring tales that have passed into family lore, the acts both ordinary and heroic that brought these citizens to a fraught and sublime country and allowed them to flourish in the land they have come to call home.
Purchase the book at Browseabout for 10% off the price; please let the staff member know you are buying it for the book club. Hot beverages from Browseabout's cafe are half price during the meeting.
The meeting will take place on Sunday, November 18th, beginning at 3:30 PM. No prior registration is required. Come for one discussion, or come for them all!
Event date:
Sunday, November 18, 2018 - 3:30pm