Meditations on the Mat: Practices for Living from the Heart (CD-Audio)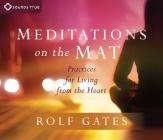 $32.95
Email or call for price.
Description
---
Journey to the heart of yoga with acclaimed teacher Rolf Gates

Are you looking for deeper meaning in your yoga practice? In Meditations on the Mat, popular yoga teacher and trainer Rolf Gates shares a four-part audio program to bring you in touch with the heart of yoga. Through guided meditations, skillful exercises, and down-to-earth teachings, Gates will help you attune to the spiritual dimensions of yoga—on the cushion, on the mat, and throughout everyday life.

Meditations on the fundamental skills of being, from the mat and into the world

Drawing from over 20 years as a yoga and meditation teacher, Gates has identified four fundamental skills that can easily and effectively be learned through meditation and expanded into our daily experiences:
Wise effort—Set the stage for all other skills as you come into connection with the present moment
• Wise concentration—Release tension in the body and tune into the subtler aspects of your experience
• Wise mindfulness—Bring awareness to how consistent practice infuses your way of being the world
• Self-forgiveness—Cultivate an open heart with a series of healing meditations

"When we can rest in the felt experience of these skills during our meditation and yoga practices," teaches Gates, "we are better able to bring them into the more complex circumstances of our everyday lives." For practitioners of all levels and from all traditions, these meditations are the perfect complement to any yoga or mindfulness practice.
About the Author
---
ROLF GATES is a leading voice of modern yoga philosophy and practice, and Mariam's life partner. He is the author of Meditations from the Mat and Meditations on Intention and Being (Anchor, 2002, 2015), and teaches in the US and abroad. They reside in Northern California. For more, visit rolfgates.com.