Talentos Ocultas (Hidden Figures): El Sueno Americano Y La Historia Jam S Contada de Las Mujeres Matem Ticas Afroamericanas Que Ayudaro (Compact Disc)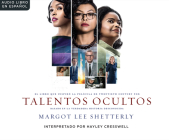 $49.99
Email or call for price.
Description
---
Before John Glenn orbited the earth or Neil Armstrong walked on the moon, a group of dedicated female mathematicians known as human computers used pencils, slide rules, and adding machines to calculate the numbers that would launch rockets-and astronauts-into space. Among these problem-solvers were a group of exceptionally talented African-American women. Originally relegated to teaching math in the South's segregated public schools, the labor shortages of World War II gave these overlooked math whizzes a shot at jobs worthy of their skills. Starting in World War II and moving through to the Cold War, the Civil Rights Movement, and the Space Race, Hidden Figures follows the interwoven accounts of the four African-American women who participated in some of NASA's greatest successes.