The Planet We Call Home (Hardcover)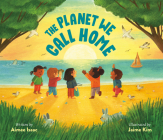 $18.99

Usually Ships in 1-5 Days
Description
---
A lyrical and loving ode to Planet Earth and the ways in which its many features are interconnected--to each other and to us--told in the cumulative style of "This Is the House that Jack Built."

This is our Earth,
the planet we call home.

These are the mountains,
stretching from Earth,
the planet we call home.

This is the sun,
that warms up the mountains,
stretching from Earth,
the planet we call home.

And on the story goes: The planet we call home has mountains that stretch from the earth, and those mountains have streams that swell in the sun, and those streams lead to rivers that meander by towns, and on and on—all interconnected and all dependent on one another. And throughout it all is us, the people who call this planet home, and who care for its many wonders and help keep it beautiful and vibrant for generations to come.

With a warm, cumulative text by debut author Aimee Isaac, gorgeous, sweeping art by award-winning and bestselling illustrator Jaime Kim, this is a perfect read for budding environmentalists—and for anyone who loves the planet we all call home.
About the Author
---
Aimee Isaac is a children's book author who writes stories fueled by her passion for the natural world. She is a former teacher and a busy advocate, dedicated to protecting the environment and ending Alzheimer's. Aimee's educational background includes sociology, early childhood special education, and reading. When Aimee isn't writing or advocating, she's often found hiking, reading, or spending time with her family. Aimee spends time each summer by the Juniata, a river that meanders its way toward the Atlantic Ocean where she lives now with her husband and three children in Rehoboth Beach, Delaware. You can visit Aimee Isaac online at aimeeisaac.com or follow her on Twitter @isaacaimee and on Instagram @aimeeisaacwrites.


Jaime Kim was born and raised in South Korea before moving to the US when she was eighteen. Although she was a timid child who was afraid of just about everything, she discovered a sense of serenity in drawing. As a grown-up, Jaime kept on drawing and painting, working with gouache, watercolors, and acrylics to create nostalgic and dreamlike illustrations inspired by childhood memories of her family, as well as movies, art, and the outside world. Her debut illustrated picture book, Take Heart, My Child, was a #1 New York Times bestseller. You can visit Jaime Kim online at jaimekim.com or follow her on Twitter @jaimekimil and on Instagram @jaimekimmy.
Praise For…
---
Praise for The Planet We Call Home:

"Young readers will appreciate the natural beauty of planet Earth and understand that they can play a part in preserving it. A gentle message lovingly and artfully rendered." –Kirkus Reviews

"Isaac takes readers on a tour of Earth and all its riches. Beginning with a view of our planet from space, the richly hued illustrations close in to highlight Earth's various aspects. . .Youngsters interested in learning about nature and ecology will come to understand the importance of the care and maintenance Earth requires to stay healthy and thriving for every living creature." –Booklist

"Euphonious verse celebrates Earth as it builds to a kid-centric vision of stewardship in this comforting eco-read. Kim's illustrations employ watercolor, crayons, and digital tools to create soft, light-infused scenes of the natural world. The effect is a pristine portrait of ways to inhabit 'the planet we call home.'" –Publishers Weekly