Teen Book Club - Kids of Appetite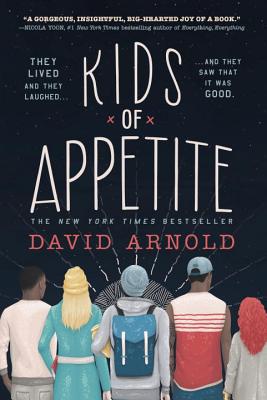 The selection for March is Kids of Appetite by David Arnold.
Victor Benucci and Madeline Falco have a story to tell. It begins with the death of Vic's father. It ends with the murder of Mad's uncle.
The Hackensack Police Department would very much like to hear their story. But in order to tell it, Vic and Mad must focus on all the chapters in between.
This is a story about:
1. A coded mission to scatter ashes across New Jersey.
2. The momentous nature of the Palisades in winter.
3. One dormant submarine.
4. Two songs about flowers.
5. Being cool in the traditional sense.
6. Sunsets & ice cream & orchards & graveyards.
7. Simultaneous extreme opposites.
8. A narrow escape from a war-torn country.
9. A story collector.
10. How to listen to someone who does not talk.
11. Falling in love with a painting.
12. Falling in love with a song.
13. Falling in love.
The book club is led by Karen Willey, an 18 year teaching veteran who has spent 17 of those years teaching Language Arts to middle school students. An avid reader herself, Karen has presented numerous times at the state wide Festival of Words conference, focusing on young adult literature. Her educational philosophy has always been to create life long readers and that continues to be her focus today, both in the classroom and in the community.
Snacks and drinks will also be served. No prior registration is required. For more information, call 302-226-2665.
Event date:
Saturday, March 11, 2017 - 11:00am